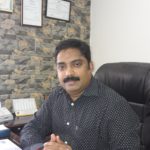 Dear Valued Viewer,
I welcome you to our website and I am really gratified to introduce my company to you.
From very humble beginnings in 2009, M/s. Max Maritime Private Limited, headquartered in Navi Mumbai has grown into a formidable organization with Branch offices in Delhi, Cochin, Ahmedabad, Nashik, Kolkata, Banglore & Chennai. It also has representation throughout the world.
In order to succeed, organizations need to grow: because the world moves forward at an ever-quickening pace, stagnation really means moving backward. Since the company's very beginning, Max Maritime has continued to demonstrate impressive growth in terms of Service, research and development, geographic reach, the number of customers, the number of employees, and, of course, revenue. This growth has enabled us to be innovative, creative, and among the first—and in some notable cases, the very first—to provide new solutions for the rapidly changing Shipping Industry.
Our reputation is our most treasured asset and the foundation on which we have built our company. Everyone at Max knows that the only way to protect and improve our reputation is to exceed the client's expectations, meet our commitments, innovate in our business and deliver excellence and not complicating the business (as our tagline says "Business Simplified.")
Instead of looking back at what we have achieved over the years, we have chosen to look forward at the next big thing, the new era that would transform India's trade, transport, and logistics industry and position it to claim its rightful place amongst the trade and transport giants of the world.
Our website provides a wealth of information about the Shipping Services.
Thank you for sparing your valuable time to visit our website.
We look forward to building a long-lasting business relationship with you.
Sincerely,
Baburaj Menon,
Managing Director